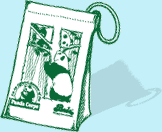 Win a Free PandaCorps™ Lunch Bag!
PandaCorps™ wants to know what you have been doing to help clean up and protect our environment.
If you have been involved with a community project, go to our
Tell us Your Story page
and explain in 50 words or more how you are working to keep our planet clean and safe.
If you are among the first 100 members to submit a story, you will win a Free PandaCorps™ canvas lunch bag. We will also be listing some of the top stories right on our web site for all our members to read. Your story could be picked!
All entries become the exclusive property of PandaCorps™ and New World Marketing, and none will be acknowledged or returned. PandaCorps™ is not responsible for late, incomplete or invalid entries, which will be disqualified.
By entering, you are giving us permission to post your name and home state on our sites and in publications. No other information about the winners will be made public. It is important to us to protect the privacy of our visitors and members.